If plants could talk, the Peace Rose could tell a tale as gripping as a World War II spy novel.
While I'm not fond of spy novels and Peace Roses aren't fond of Kodiak, Alaska, I was thrilled when a bouquet of Peace Roses showed up in our kitchen one day…
Marty had returned from the post office with a sheet of postage stamps. "I think you'll like these," he said, holding them up. "It's a photo of a pretty yellow and pink rose."
Though I couldn't see the stamps from across the room, I saw enough. My heart swelled with a deep knowing, an intuitive recognition. "Is it… is it a picture of the Peace Rose?"
"Yes it is," he said. "How did you know?"
A memory trigger
I walked over to the bookshelf and pulled out a copy of Chicken Soup for the Gardener's Soul. I flipped through the pages until I found the story called, Of War and Roses. Written by Carol McAdoo Rehme, it's one of my favorite stories in the book.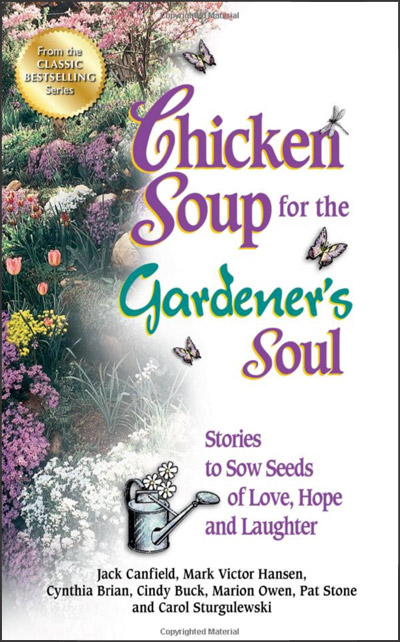 In 2000, I worked with a team of garden writers to write and produce Chicken Soup for the Gardener's Soul as part of the bestselling series by Jack Canfield and Mark Victor Hansen. It was published in February 2001 and spent three months on the New York Times bestseller list.
France, 1939
As I explained to Marty, the story is about Francis Meilland, a rose breeder in France. He had dedicated his life to these plants. He knew each one intimately.
One day, while strolling through his nursery, Meilland reached out to rub a particularly glossy leaf, its finely serrated edge curling slightly over his finger. He was pleased. "This is a masterpiece," he thought.
The rose was unlike anything he had ever grown before. This plant produced the most beautiful blossoms.
Smuggling plants
Monsieur Meilland was anxious to experiment, to develop the rose further and give it a name it deserved. But it was 1939 and he was running out of time. Within months, the German Army had occupied northern France and was making its way toward Paris, attacking one town after another.
Pressed for time, Francis Meilland took cuttings from his beloved plant and methodically packaged and shipped three parcels to fellow plantsmen in Germany and Italy. A third package was entrusted to the U.S. consul, who took it with him as he left France and promised to send it to an American grower.
Cut off from the outside world
As the war raged, the rose breeder was cut off from communications with the outside world. No faxes. No cell phones.
Four long years passed. Then a letter arrived from a rose grower in Pennsylvania, praising the beauty of Meilland's masterpiece. The bloom was delicate and unique with creamy yellow petals delicately edged with pink.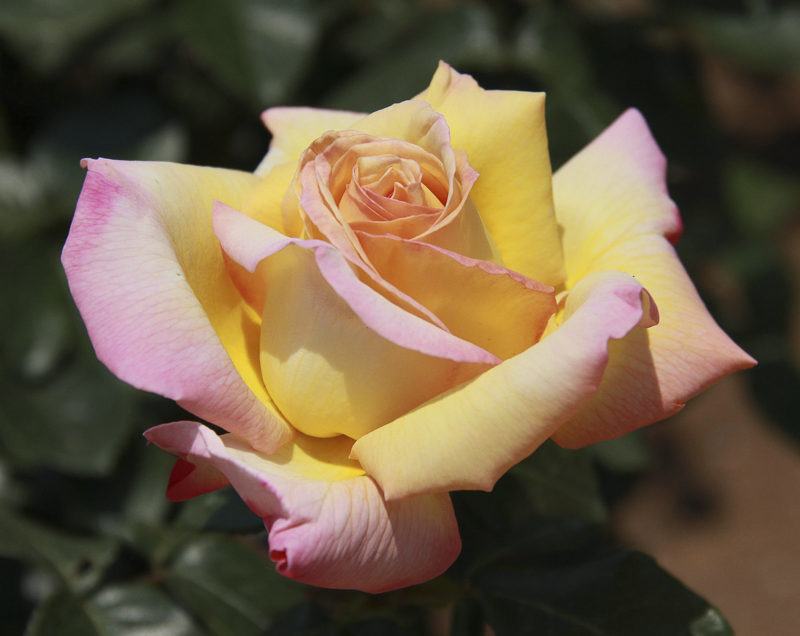 Meanwhile, back in our kitchen…
"This is a beautiful story, Marty. Mind if I read the rest of it aloud?"
"Sure, go ahead," he said.
"His rose had survived. But, for Francis Melland, the crowning glory came later. On the very day that Berlin fell [April 29, 1945] and bells of freedom rang across Europe, rose growers gathered far away, in sunny California, at a ceremony to christen his splendid blossom. To honor the occasion, white doves were set free to wing their way across a sapphire sky.
"And, after so many years, the fragile rose that had survived a war finally recovered its name.
'Peace.'"
More memory triggers
As I read the last couple sentences, I struggled with each word and choked up. Tears ran down my cheeks. Marty and I hugged.
Monsier Melland's Peace Rose not only survived against all odds, it remains a symbol of hope. Later in 1945, Peace roses were given to each of the delegates at the inaugural meeting of the United Nations in San Francisco, each with a note that read:
"We hope the 'Peace' rose will influence
men's thoughts for everlasting world peace."
Today the Peace Rose remains one of the most popular roses in history. I love that, because while war and suffering continue to fester across the globe, I believe peace will prevail.
Somehow it was fitting that the U.S. Postal Service created the Peace Rose as a Forever stamp…
Thanks for stopping by.
May you enjoy a lifetime of peace…
P.S. I think plants can talk. We just need to learn how to listen.
😉