On a drizzly Monday morning, eight people gathered in our living room. They came to absorb a few photography tips and nibble on warm, oatmeal cookies.
Little did they know that this was more than a photography lesson…
Onto the TV screen, I projected a series of images that emphasized composition. In the 30+ years of teaching photography, composition remains the common thread that links all photographs — dating back to 1822 when Joseph Niépce created what is believed to have been the world's first permanent photographic image.
Meanwhile, back in my living room…
When I reached the part that describes how to simplify an image, I turned to the group and said, "When you see an image that's too busy, too complicated, guess what? Your brain shuts off.
"That's because the human mind is a crowded room and we're all suffering from sensory overload."
Simplicity, I said, breathes fresh air into things like meals, vacations, and corporate logos.
Plus, our souls welcome simplicity. It's relaxing, comfortable. That's why we embrace simple things.
In character, in manner, in style, in all things, the supreme excellence is simplicity.

— Henry Wadsworth Longfellow
The recipe behind two simple photos
How to create simple photos?
Here's the key: Before you take a picture, have a 'selfie' conversation. Ask yourself, "What do I like about this scene?"
Is it the sunset?
A shoe?
A basket of apples?
Then, go after what's important. Zoom in with your camera or your feet. You might think this takes too much time, but after a while it becomes automatic.
Be as simple as you can be; you will be astonished to see how uncomplicated and happy your life can become.
― Paramahansa Yogananda, Autobiography of a Yogi
3 Photos: Before, during and after
See the photo at the beginning of this article? It's a tight shot.
But it didn't start that way…
We were on our boat, headed back to the harbor when I spotted this wall of swimming salmon. I took this photo to remind myself to visit it later.
Photo #1:
Before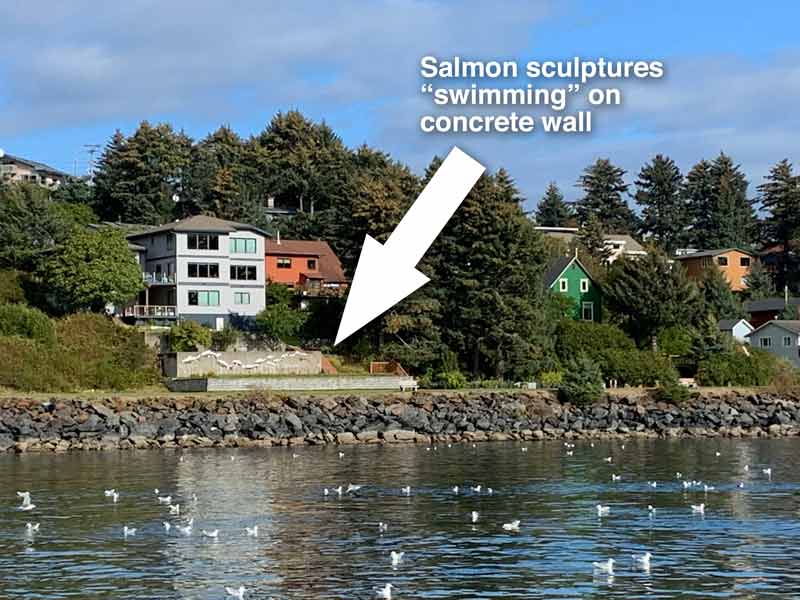 The next day, I walked over to the house to get a closer look at the salmon. I could see that they were crafted from brushed aluminum.
The yard was still under construction, which made for unattractive shrubs, weeds, and miscellaneous debris.
Ugh.
Photo #2:
During
Then I asked myself, "What do I like about this scene?"
The salmon.
So I zoomed in with my feet and discovered flowers in the foreground — a wonderful surprise because the holes in the concrete looked messy and took away from the beauty of the salmon.
Photo #3:
After
You might be wondering…
Why did I write this blog post?
Consider this:
Everything begins with a thought.
Thoughts are energy.
Over 300 million images are uploaded online every day.
Every image is charged with energy.
That said, your photos can change the world by encouraging us to appreciate nature, demonstrate kindness, and extend gratitude, as you'll see in this video of gorgeous photographs by Louie Schwartzberg (6:32):
Description: Nature's beauty can be fleeting — but not through Louie Schwartzberg's lens. His stunning time-lapse photography, is accompanied by powerful words from Benedictine monk Brother David Steindl-Rast, serves as a meditation on being grateful for every day…
Something else to consider:
We are all connected.
So please know, that with your camera or your smartphone, you can introduce more peace and calmness into your life — and everyone else's — by creating simple images.
May you enjoy healthy doses of nature, beauty, gratitude, and warm oatmeal cookies.
Cheers,

Another article that might tickle your curiosity:
What if, while taking pictures, you felt all warm and peaceful inside, like curling up on rug by the fireplace? Or what if you could sense a connection to something bigger than yourself? It is possible, you know. I describe it in my article about nature photography.
+ + + + + + + + + + + +
Marion Owen is on a mission to help busy people survive day-to-day life by condensing topics such as photography, cooking, and organic gardening into bite-size pieces. Get Marion's free 4-page "In Good Light: Photo Tips for Busy People" to feel newly recharged when taking pictures.