Residence: Oceanside home in Kodiak, Alaska (1984 to present)
Favorite food: Chocolate avocado pudding and oat-bean waffles (ask me for the recipes)
Favorite quote: "If I had a snowflake for every time I thought of you, we'd have a really white Christmas." — Charlie Brown
hen I was 10 years old, my parents gave me a Kodak Brownie camera for Christmas. Sounds sappy, I know. I was a bit of a tomboy, climbing trees and poking around rocks at low tides. So I was pretty surprised when I found a photo of me holding my new Brownie camera–get this–a polka dot dress. Sheesh.
I was born and raised in Washington State. My childhood wasn't exactly warm and fuzzy, which might explain why, at age 20, I went to sea. I worked as marine science technician and later, as a Merchant Marine Officer. Hard work, away from home.
I traveled the ocean from the Chuckchi Sea in northern Alaska, to Guam, Midway and other realms south of the equator. Those were pre-internet days. To share my shipboard life I wrote letters, describing whale encounters, 50-foot seas, and Sunday meals of roast pig. I also took B&W photographs, developing the film in the darkroom below decks (no need to tilt the trays of developer; the ocean-motion took care of that).
But after eight years at sea, I missed the changing of the seasons. I remember standing on the deck of a tug and asked myself, "What do I really want to do?" Two things popped into my head:
Photography
Gardening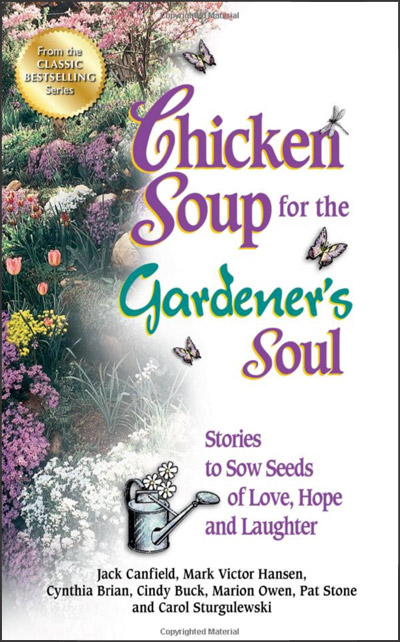 I moved to Kodiak Island, Alaska. Why the heck an island in the North Pacific? Because everyone I met there was super friendly.
I rebooted my life, a camera in one hand, a pen and trowel in the other. I married Marty Owen, Kodiak's harbormaster (retired), became a passionate organic gardener and launched a photography career. Clients include The Smithsonian, Patagonia, Reader's Digest and my annual wall calendar. For a visual delight, visit my MarionOwenPhotography website.
Today we operate an oceanfront bed and breakfast called the Cliff House B&B. From your room you can watch sea otters, sea lions, eagles and fishing boats go by…
We grow tomatoes, basil, zucchinis, and cucumbers in a greenhouse and surrounding the house are 12 raised beds filled with flowers, vegetables and herbs — from which we grow fresh greens for our Galley Gourmet dinner cruises. You're invited to stop by for a cup of coffee on the deck overlooking the ocean.
As for writing, I co-authored Chicken Soup for the Gardener's Soul, which enjoyed three months on the New York Times bestseller list. To keep practicing, for 22 years I've written a weekly gardening column for the Kodiak Daily Mirror. Time flies.
If you plan to visit Kodiak Island, be sure to look us up.
Cheers and blessings,