There's something really satisfying about checking a goal off your bucket list. Your goal might emerge on cue, like a sunrise. Or demand patience. Here's what happened at 4,000 feet in Joshua Tree National Park.
It began as a winter vacation. Rain, wind, and hail pelted the RV as we drove down the West Coast. Relief came when we arrived at California's Joshua Tree National Park. It was February 21, 2019. We parked the motorhome in Black Rock Campground under hard, bright sunshine. The weather forecast promised wind and freezing temps.
Suddenly, a goal I'd committed to my bucket list 40 years ago tinkled like a little bell in the back of my mind: Take pictures of cactus covered with snow. Problem was, the snow accumulation was forecasted at less than a half inch.
Oh well.
Things that go bump in the night
After dinner, we turned in early. Little did I know, the stars were beginning to align.
At 6 a.m. I crawled out of bed to pee. Sometime during the night, the wind had surrendered to a palatable silence. I lifted the shade by the bed. Snow! Four inches of beautiful, white, fresh snow had transformed the landscape. A quiet elation filled my being as I donned warm clothes and collected my camera gear.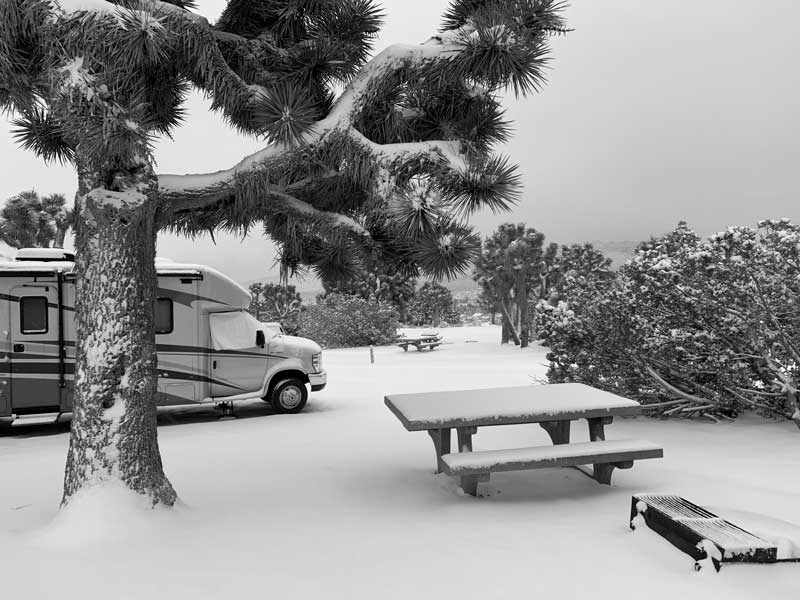 Finding bliss in snow
For two days, I hiked, sat, kneeled and wandered contentedly in the snow.  (I share my favorite images at the end of this post). The next day we broke camp and drove south…
When Mark Twain said, "Twenty years from now you will be more disappointed by the things you didn't do than by the ones you did do," do you suppose he was talking about a bucket list? You know, those things you want to accomplish and check off before you check out.
What about those popular "bucket list ideas" blogs?
Lists are helpful. They assign stepping stones to our busy lives. But when it comes to bucket lists, that's where a lot of people get stuck… keeping themselves too busy and not taking care of what's really important. As in, what's the purpose of life?
I know it can be overwhelming and uncomfortable…
As we departed Joshua Tree and headed east on I-10, a haunting realization nagged at me. Sure, I was basking in one of the most exhilarating experiences of my photography career. Yet I knew that another goal, another wish, another dream would present itself like a carrot on a stick.
Sound familiar?
What is your daily routine?
I also knew, through years of spiritual study, that it's not enough for us to simply get up, down coffee and breakfast, commute to work, rush home, eat dinner, watch a movie, and go to bed. Only to do it all over again the next day.
In an instant you may be required to leave this world; you will have to cancel all your engagements. Why then give any other activity first importance, with the result that you have no time for God? That is not common sense.
— Paramahansa Yogananda
What's the meaning of life?
No small question, right? Truth is, the only way to know true happiness is to find God.
Why is this so?
As Yogananda says,
Man has come on earth solely to learn to know God; he is here for no other reason. This is the true message of the Lord. To all those who seek and love Him, He tells of that great Life where there is no pain, no old age, no war, no death — only eternal assurance. In that Life nothing is destroyed. There is only ineffable happiness that will never grow stale — a happiness always new.
Here's my point: To find God is the only goal that you need on your bucket list.
But there's one small catch. No one else can give happiness to you. You must cultivate it yourself.
So how can you find God?
Start by learning how to meditate. You'll be in good company: Jesus, Clint Eastwood, Oprah Winfrey, Michael Jordan, The Buddha, Gandhi, Steve Jobs, Jerry Seinfeld, the Dalai Lama, Arianna Huffington…
Sending you love,

P.S. I want to share a little more magic with you. As we approached the southern boundary of Joshua Tree National Park, we were surrounded by a riot of wildflowers. Purple, orange, yellow. Scroll through the images below and you'll see it. Another check mark off my bucket list, Yay!
You'll really enjoy these tasty morsels, too…
Learn how to meditate: Discover the peace and divine consciousness that meditation brings.
One of my more popular blog posts: When did you last spend time being quiet?
Self-realization home study lessons:
Practical guidance and techniques for attaining balanced physical, mental, and spiritual well-being — the health, healing, success, and harmony that yoga bestows in every aspect of life. Sign up for these "how-to-live" principles which are an absolutely essential component of any truly successful meditation practice.
Visit my home town of Kodiak: Did you know that Kodiak Island is the 2nd largest island in the U.S.?
+ + + + + + + + + + + +
Marion Owen is a "Jill of all trades," with 30 years of experience as a teacher and columnist. She's on a mission to help busy people enhance their daily lives, condensing topics such as photography, cooking, and organic gardening into bite-size pieces.  Get her free 4-page "In Good Light: Photo Tips for Busy People" and feel newly recharged when taking pictures.