Today is a gloriously sunny day in Kodiak, Alaska. We endure snappy winters for days like this. And as much as I don't like to… be indoors when the sun is out, one must go to the store now and then.
Yet, as my dear readers know, it's when standing in checkout lines that I get my best inspiration for this weekly column.
This time, the conversation between the two shoppers went something like this:
"Will kale grow in the shade?"
"I don't know," the other person said. "But moss does."
Growing plants, (other than ferns, salmonberries, and moss), in shady zones can be very challenging. If you're surrounded by Sitka spruce trees in Monashka Bay, I'm not telling you anything new.
Gardening ANY-where has its challenges but those who dig in coastal Alaska dirt are a special breed.
If it's not rain, freeze-thaw cycles, or bone-shaking williwaws, "shady gardeners" must deal with other issues.
For example, plants must be able to thrive in cool temperatures and dry areas, (such as under the canopy of trees) and settle for a landscape dominated by green foliage rather than colorful snapdragons and bleeding hearts.
[Hi, it's Marion. This article was originally published in the Kodiak Daily Mirror, the hometown newspaper for Kodiak, Alaska. Go here to access the archive page for the list of my past columns, written each week since 1986].
That said, shade is not limited to forests. There's the north side of buildings and the backside of mountains to contend with.
If you're a shady gardener, you needn't feel left out of main-stream gardening. There are positive aspects of low-light gardening.
The bright side of shade plants 
Shade plants require relatively little maintenance. You don't have as many plants to stake or dead flowers to remove. Sure, you have slug battles, but who doesn't.
Shade plants have bold foliage that usually crowds out weeds (excluding persistent salmonberries and horsetail, one of the world's oldest plants), and they require much less water than their sun-worshipping cousins.
That said, here is a list of tried-and-true shade plants for Kodiak shade. There are many others, but I encourage you to visit our local garden centers and investigate different gardens (let the homeowners know you're doing this) and pay particular attention to what's growing in the shade.
Take a notebook and a camera. And remember, you're not limited to ornamentals. Spinach, kale, and lettuce CAN thrive in the shade, too.
Many local and online nurseries carry these shade plants… of course, you can also trade oatmeal cookies for plants from a friendly gardener!
1) Hostas

: The queens of the shade
Hostas are large-leafed perennials that come in many varieties. The hostas thriving in the shade of my bleeding heart plants send up chartreuse leaves edged with white. Another plus: Hostas can also be very fragrant and all of them flower. Keep an eye out for slugs, though. They will crawl a mile for a Hosta.
2) Astilbes

: Standing above the rest
Astilbes (uh-STILL-beez) are a hardy perennial whose flowers come in a vast spectrum of pinks, reds, and whites. Their leaves are fernlike, often with red or burgundy edging, and the sturdy flowers bloom in feathery clusters atop 2 to 3-foot stalks.
Gardens are not made by singing 'Oh, how beautiful,' and sitting the shade. — Rudyard Kipling
3) Coral Bells

(aka Heuchera): Shy beauties
Coral Bells or Heuchera (YOU-ker-uh) are members of the saxifrage family. A hardy perennial, it forms a polite clump of leaves with 1-1/2 to 2-foot stems. Tiny (sweet!), bell-shaped flowers bloom at the top. Flower colors range from crimson, red, and pink to white and green. From spring to fall, coral bells add texture and color. Oh, the foliage is whispy and lovely!
4) London Pride: Ground cover fashion statement
Here's another staunch member of the saxifrage family. As a ground cover, the leaves form a tight rosette from which a vertical flower stalk grows and blooms. The flowers are delightful, but their leaves steal the show.
5) Lungwort: Odd name, cool plant
Also known as Pulmonaria, its foliage is beautifully dappled with random gray, white, or silver dots. If that's not enough, they present clusters of trumpet-shaped flowers, typically blue, pink, white or purple. The blooms are some of the earliest of the season and they last for weeks.
The beauty of roses bypasses not the wisdom of ferns. 
6) Ferns are forever
Ferns are probably the biggest group of shade plants, providing a soft texture and shape, yet they are often overlooked. They grow in poor soil and provide a long season of varying shapes and greenery. Warning: Before planting ferns in your garden make sure you have the space. I planted what I thought would make a nice backdrop behind a favorite Tamarack tree… The ferns' fibrous roots eventually created a solid mass. The Tamarack suffered a slow and sad demise…
Last but not least…
7) Himalayan blue poppies
Blue poppies have been called one of the most beautiful flowers in the world. They thrive in alpine regions and thus prefer fertile, moist, and well-drained soil and filtered light. Your reward is a stunning display of soft blue, cup-shaped flowers atop tall fuzzy stems. The bloom season is short, so enjoy it!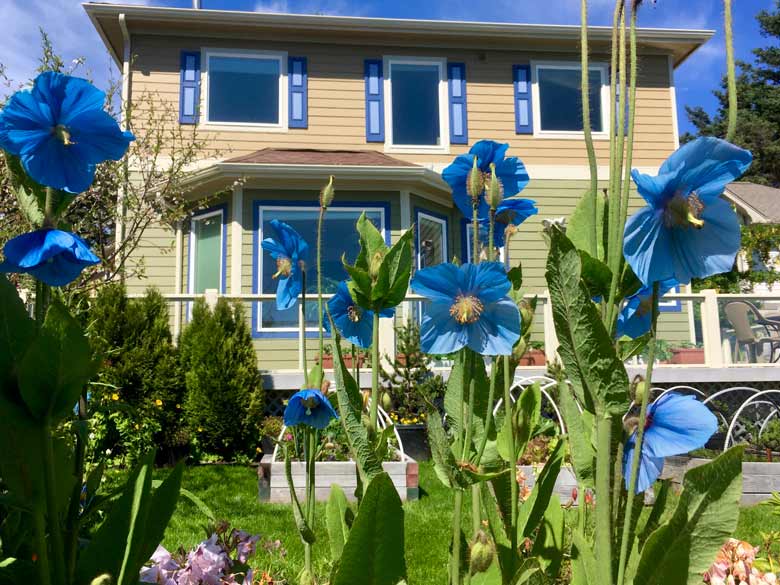 The Garden To-Do List
Pinch faded flowers to encourage a longer bloom period. Keep up with the weeding. Stake peas, beans, delphiniums, blue poppies, and lilies.
Missing a favorite plant? Local retailers have a superb collection of annuals, trees, shrubs, and perennials.
Lawn Mowing 101:
When mowing the lawn, avoid cutting yellow dandelions, at least until they threaten to go to seed. Always set your blade to the highest setting, around three inches. It's healthier to cut turf grass long than subject it to a buzz cut that leaves a brown base exposed to the elements and little left for photosynthesis.
Start new seedlings of kale and mixed salad greens. Sow turnips, beets, and carrots. Rotate hanging baskets and remember to keep carrot seeds damp until they germinate, which can take two weeks.
Now if you'll excuse me, I need to head outside and hunt for slugs…
Oh, one more thing: Moss in your lawn is not a bad thing. You don't have to mow it. Plus, it's green year-round!
Thanks for stopping by!

Need a little help? I've got more resources for you:
Hi gardeners! Want to create your dream garden? You can do it, step-by-step with Marion Owen: The Gardener's Coach. Visit my YouTube channel: The Gardener's Coach.
Compost is the answer to everything in the garden!
And if you have enough of it, you won't need much of anything else. To learn more, take my 60-second assessment.
But friendship is precious, not only in the shade, but in the sunshine of life, and thanks to a benevolent arrangement the greater part of life is sunshine. —Thomas Jefferson