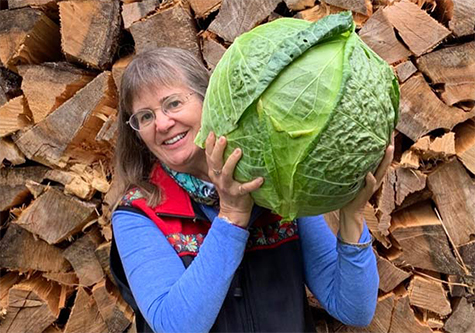 After 24 years of writing a weekly column for our newspaper, the Kodiak Daily Mirror, I decided to post them here so folks like you have direct access to ad-free, tried-n-true gardening tips.
These articles cover a bookshelf of topics. What you see is what you get: They are not dolled up or optimized to achieve high rankings in search engines. Best of all, you'll get a taste of life in Kodiak, Alaska.
Please be patient. I have 1,200+ articles to upload!
Meanwhile, I hope you find solutions to what might be keeping you up at night. Feel free to share these links. They might help someone else.
Blessings,



Archive of Marion Owen's Weekly Organic Gardening Columns

For the Year: 2021
Jan. 18, 2021: Winter Composting Made Easy (#1285).
Jan. 11, 2021: Garden your way out of a bad mood (#1284).
Jan. 4, 2021: How snow delivers nitrogen to your garden (#1283).
BONUS: 5 Garden Trends You Need to Know for 2021 (#1282).
For the Year: 2020
Dec. 28, 2020: From hobby to mandate: The role of gardening in 2021 (#1281).
Dec. 21, 2020: All is Calm, All is Bright  (#1280).
Dec. 14, 2020: How to Beat the Holiday Blues (#1279).
Dec. 7, 2020: 'Twas the Night Before Christmas–for Gardeners (#1278).
Nov. 23, 2020: John Lennon, cranberry jelly, and oyster (yech) casserole (#1277).
Nov. 23, 2020: Geranium cuttings and a vegan recipe: "Pumpkin Pie for the Soul" (#1276).
Nov. 16, 2020: Potato scab, spider mites, and Clint Eastwood (#1275).
Nov. 9, 2020: Are you dreaming of a white Christmas? (#1274).
Nov. 2, 2020: How to compost shredded paper (& more Q&A's) (#1273).
Oct.26, 2020: Be of gourd cheer with 7 pumpkin recipes (#1272)
Oct.19, 2020: If I can make COMPOST, so can YOU! (#1271).
Oct.12, 2020: Can compost save the world? (#1270).
Oct. 6, 2020: How to rake leaves and what to do with them (#1269).
Sept. 28, 2020: How to rest after a busy gardening season (#1268).
Sept. 21, 2020: Loving spinach as a winter green (#1267).
Sept. 15, 2020: Gardening in a crazy world & overwintering begonias (#1266).
Sept. 8, 2020: Sunflowers, Stalin, and a recipe for grilled zucchini pizza (#1265).
Aug. 31, 2020: Thinking like a plant (#1264).