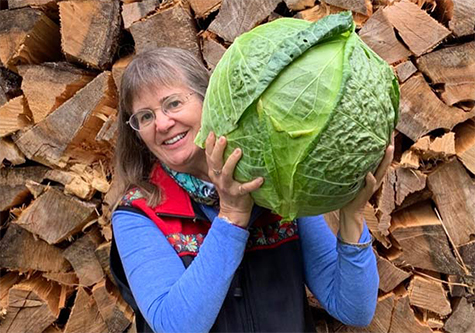 Since 1986, I've written a weekly gardening column which is published every Monday in the Kodiak Daily Mirror here in Kodiak, Alaska. I felt like I was writing in a bubble though because people couldn't read my columns unless they subscribed to the newspaper.
And then, on September 29, 2020, I had an ah-ha moment: Post my articles on my blog. So, after more than 24 years of writing articles about all manner of messes–from making compost and growing blue poppies to overwintering spinach and how to photograph flowers–I'm happy to say my articles have a home…
Please understand that these columns are raw and real. They're not tweaked or optimized to achieve good rankings in search engines. What you see is what you get. Please be patient. This might take a while.
I hope you find solutions to what might be keeping you up at night. Feel free to share these links. They might help someone else.
Blessings,

Oct.19, 2020: If I can make COMPOST, so can YOU! (#1271).
Oct.12, 2020: Can compost save the world? (#1270).
Oct. 6, 2020: How to rake leaves and what to do with them (#1269).
Sept. 28, 2020: How to rest after a busy gardening season (#1268).
Sept. 21, 2020: Loving spinach as a winter green (#1267).
Sept. 15, 2020: Gardening in a crazy world & overwintering begonias (#1266).
Sept. 8, 2020: Sunflowers, Stalin, and a recipe for grilled zucchini pizza (#1265).
Aug. 31, 2020: Thinking like a plant (#1264).