On Kodiak Island, you'll find a special beach at the end of a forest trail. We call it Glass Beach. Tides deliver colorful shards of sea glass, twisted copper bits, even World War II dog tags. One time, Glass Beach delivered not glass, but an answer to my prayer.
Glass Beach is a high-impact beach, a paradise for sea glass hunters thanks to powerful waves surging across the Gulf of Alaska. So if you visit Glass Beach, be sure to carry a Ziploc bag.
Beach walk this way
Combing shorelines for sea glass is a hobby many beach-goers enjoy and Glass Beach never lets you down.  I probably look like an elephant as I meander along the tideline, dodging waves and searching for glass: Frosty white and gold, emerald green and brown. And if I'm really lucky, red, orange and yellow. Whether or not I fill my pockets, the tangy air and ocean sounds erase all cares.
In her book, Gift from the Sea, Anne Morrow Lindbergh writes,
"Patience, patience, patience, is what the sea teaches. Patience and faith. One should lie empty, open, choiceless as a beach–waiting for a gift from the sea."
My sea glass sister
One day, while trolling for treasures on Glass Beach, I thought about my sister Mara. She lives near Seattle and had been going through some tough times. Like me, Mara loves to hunt for sea glass. And whenever I visit, we share long walks near the ferry terminal. We don't say much; just wander around piles of driftwood, looking for tiny rainbows in the sand.
As I walked, I broadcasted this prayer: "Dear Father, in my search today, please let me find something special for my sister." I paused a moment and then let it go,  trusting the Universe and tiring to be unattached to the outcome.
A few minutes later, I reached the end of the beach where a rocky cliff jutted into the sand. I watched an eagle fly by. As I turned to retrace my steps, I heard a firm but quiet voice.
"Stop. Look out toward the waves," it said.
I turned my gaze seaward and to my amazement, a blue-green marble, nudged along by a wave, was rolling towards me. The marble came to rest right at my feet. Stunned, I shook my head slowly and laughed aloud at what I'd just witnessed.
I'd always known that "With God all things are possible." [Mark 10:27].
But at the beach that day, I learned that God has a sense of humor.
~ ~ ~ + ~ ~ ~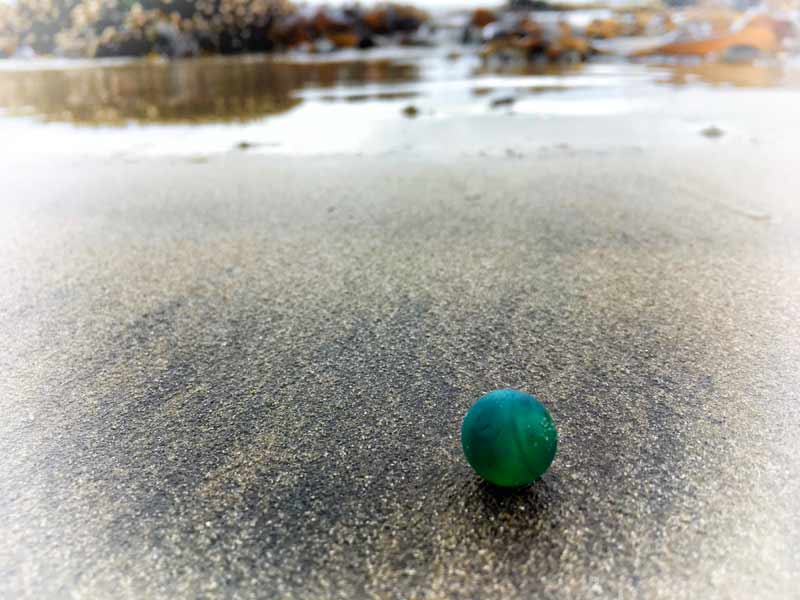 Thank you for stopping by.
If your travels bring you to Kodiak, Alaska, let us know. We'll put the coffee on.

P.S. Do you believe in magic?
More links and resources for you:
1. Explore the community of sea glass enthusiasts: The North American Sea Glass Association.
2. Little Planet Views of Our Earth: A photo essay
+ + + + + + + + + + + +
Marion Owen is on a mission to help busy people survive day-to-day life by condensing topics such as photography, cooking, and organic gardening into bite-size pieces. Get Marion's free 4-page "In Good Light: Photo Tips for Busy People" to feel newly recharged when taking pictures.